GiftList provides the most comprehensive Christmas list maker on the AppStore, allowing you to actively connect with family and friends to give and receive the perfect gifts this holiday season. With 300+ brands to browse, you can create wishlists and add gift ideas directly in the app. Share what you wish and get exactly what you want while avoiding buying the same gift as someone else. GiftList is the only gift tracker app that lets you chat with other givers to plan your gift-giving.
The functionality of the GiftList:
Make Lists
You can easily search and add items from top brands by using GiftList as your gift list manager for Christmas shopping. Add your own item and easily add links, descriptions, and images to ensure everyone understands what you want. Download GiftList's Chrome or Firefox extensions to automatically add Christmas gift ideas.
Sharing List
Share your Christmas gift list(s) with your friends and family. They can see what's on your Christmas wish list even if they don't have the app.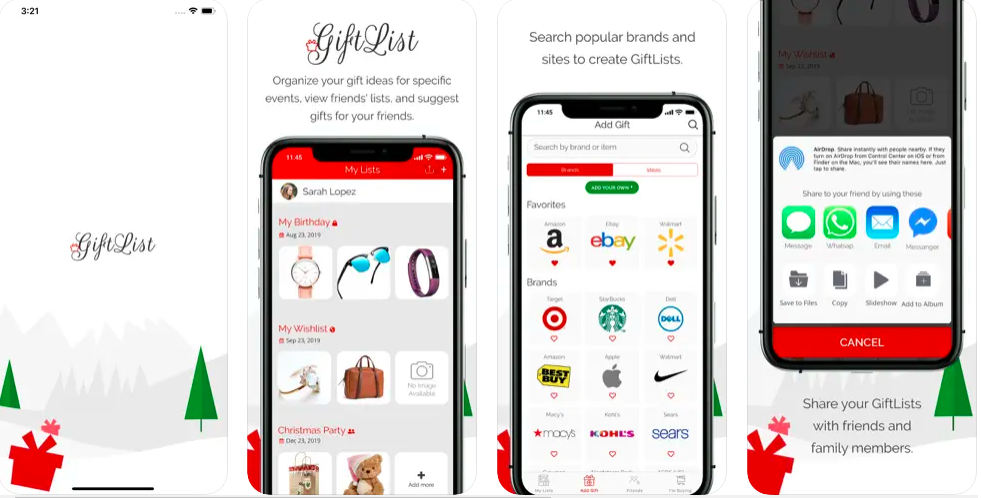 Collaborate
Privately discuss others' wish lists with friends and family to suggest holiday gift ideas, reserve Xmas gifts on others' lists, and make gift planning simple so that no one buys the same thing.
Track Purchases
With the Christmas gift tracker, you can easily see all the items you've reserved or purchased, so you know what Christmas presents you've purchased and how much Christmas shopping you still need.
Add From Safari
Activate the 'Share' button, then scroll down to 'More,' where you can add GiftList as an option to share the URL. Add Christmas gift ideas to your lists or make suggestions for Christmas gifts for friends and family.
Multiple Countries
Wishlists now allow you to create by searching stores in your area! Make a shopping list for Christmas from stores in your country. Australia, Canada, Europe, the United Kingdom (UK), and the United States are now available in the Christmas planner app (USA). With stores from each region, they attempt to make your Christmas shopping list even easier.
Final Thoughts
GiftList is your go-to Christmas list app, but it can also be used mostly for birthdays, anniversaries, weddings, and any other occasion when you need to give a gift.