It is argued now that when everything else has gone digital, why not dating? Primarily the spring has finally sprung and love is in the air. Also it might just be pollen in the air. Either way, this is perfectly one of the best times to try this popular Snatchable – The Video Dating App.
Amazingly Snatchable is the first of a new generation of dating apps that makes use of short video bios to show users instead of the traditional bios with images. It is also possible to meet real people and not profiles. In addition Snatchable permits you to see a little of the personality, and all the angles that images can hide.
One of the best things about Snatchable is that it permits you to pick up on subtle nuances about another user's personality, mannerisms, sense of humor, and other characteristics that would give you an idea about who really the person is and what he actually looks like in person versus a static image that might be edited with filters and something that has been taken from many years ago which is not apt representation of who that person is today.
So viewing a user's video and actually hearing his or her voice is, is the best in terms of figuring out or finding your match or snatch.  Snatchable makes every single moment count. It is more than a dating app and perfect video dating platform/app which strongly aims to put an end to catfishing with the use of video profiles.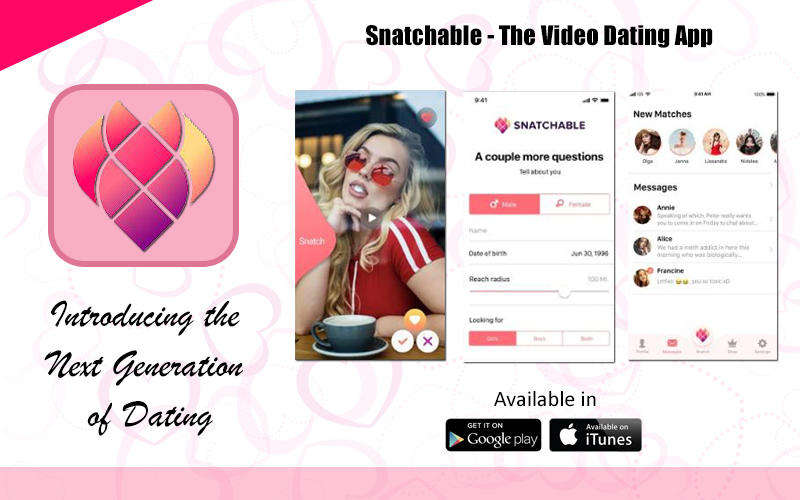 Primarily they are like a fusion of the familiar dating and social media apps on the app store. It's a dating app with swipe right and left feature, Video user profiles and more. They are the best video dating app to meet new people nearby and worldwide.
Easy and Simple Set up
Swipe left or right to look for potential snatches or matches.
Send a first message to your match – if they reply, you've made a connection
Why to select Snatchable?
Create a standout video profile, find your match (snatch), meet new friends or get into a relationship
Swipe right/left and find your match by checking the user's profile video.
Snatchable is for meeting real people, casual dating, serious relationships, or simply just have fun
Key Features of Snatchable
Video Profiles
Interestingly Snatchable is the first of a new generation of dating applications using short videos to show users instead of images. This permits you to see a little of the personality, and all the angles that images can hide.
Supersnatches
If you wish to stand out with someone you are really into? Then send them a Supersnatch and they can even send different animations which fit your mood.
This app is safe, secured, and stress-free environment for people to enjoy their video dating platform. Snatchable is a multi-functional mobile app, user-friendly that is oriented on a niche dating and is qualitatively developed for users.
Verdict
Video dating apps around the globe are really transforming the way people make connections and find their perfect match in the real world. This Snatchable video dating app has undoubtedly changed the dating scene of this generation in 2019.
DOWNLOAD HERE :