Been out somewhere and wondered how it would be if there was someone to help you out? There are times where we travel to new places, cities or tourist destinations and wished we had a companion to assist with all the chores. At times we feel like we are lost and have not spent the time wisely. If there had been a local guide or a friend to help you through, things would turn out much better. An app named Outist was created with this thought in mind.
What is Outist about?
Available on both the Play Store and the App Store, this social app helps you to connect with new people in different cities wherever you travel. You get to contact with the expats, locals or travellers who are near so that your adventure becomes the best. The app's menu allows you to create events of your own and view nearby events. Using Outist, you can invite friends to the events and start hanging out with them.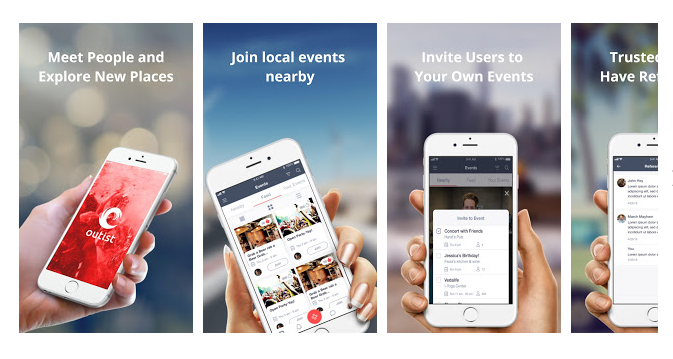 Working of the app:
All that you must do is download the app for free and sign up using your name, email and password. Later, enter some details to setup your profile and start exploring. Just upload your photo, specify some interest of yours, your gender, DOB and a lot other details. When it comes to the interests, it asks you to select whatever that fascinates you. It may be music, books, hobbies, food preferences and a lot more. Based upon these, the app fetches locals with similar interests so that hanging out with them will be a pleasurable event. It helps you to discover the upcoming events near you and it allows you to create your own events. You can form meetups with groups of three. You can find the local groups and events near you and also join events created by other members of the group. By this way, socializing is made easier with Outist.
Special features of the app:
Outist enables you to get the company of the natives or other travellers whenever you set out on a tour so that you can learn more about the place and their culture. If you are foodie, you can meet up in your favourite bar or restaurant with someone who loves eating the same. You can create your own dance/fitness group or look out for a language exchange partner and do a lot more. You can also know about the popular events that are happening near you and attend them if the invitation is public. This will help you be a part of certain community that does some welfare activities. There are endless possibilities to connect with individuals and create a social activity of your own with Outist.
In short, Outist makes socializing much easier wherever you go. You can find friends who have the same taste as you and hangout with them and make more wonderful memories.
Worth Having App – Download the App