Do you undertake any building contracts or remodelling works? Do you execute general handyman tasks or manage properties for real estate investors? If so, then this app is something that best suits you. Contractor+ simplifies the task of estimating, paying, generating invoices, scheduling jobs, delegating, inspecting, shopping and collaborating. Yes, this one single app does everything for you and helps improve your productivity and profitability.
The app belongs to the Business category and is compatible with both iOS and Android devices. It allows you to showcase every area of the project and communicate to the clients what is to be done and the amount that has to be spent on it. Estimating with complete transparency is the most unique element of this app. Contractor+ integrates with the various payments options for an instant credit card, eCheck and even crypto payments. Invoicing and payments will no longer be a headache when people use this.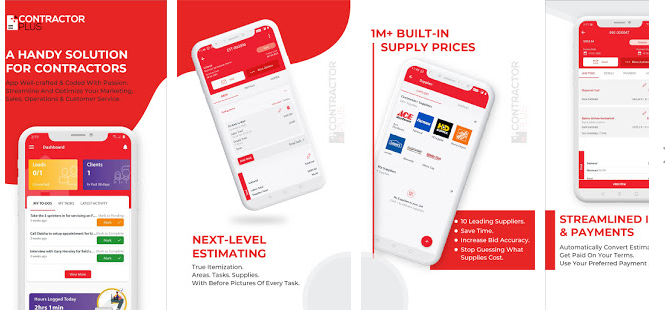 Contractor+ provides the current supply prices from Lowe's, Home Depot, Menards, Ace, etc. It also has up-to-date supply prices for the total products and it always fetches the best price no matter wherever you shop. This neatly designed app helps all the employees to be aware of the different projects they are employed in. Users will be able to add as many team members as they want and give the level of access they require.
The employee time clock and the mileage log are the numero uno features of the app that I admire the most. Kudos to the team for coming up with the GPS validation option to track employee locations, drive speeds and routes. When contractors use this app, they can coordinate the entire job schedule, manage unlimited jobs at a time and know what's going on and where.
Workers can review every task that is done and take photos later. Finished results along with the reports can be sent to the clients. The customers can be invited to leave a review and a rating to each of the posts and make use of it to grow the business. Another notable feature of Contractor+ is the Bluetooth tool tag inventory management. This assists you in assigning each tool to a specific team member or a job site. All of them will now have to check out and check in tools in the library book to prevent theft.
All estimates, invoices and post inspections are branded with logo and contact information. Users can also configure an email address and deliver all reports to the clients directly from their email id. The app is completely accountable and it automatically syncs estimates, invoices and payments with QuickBooks thereby saving a lot of time and labour.
Download Contractor+ today and skyrocket your handyman or field service business in an instant.
Worth having App – Download the App