There are a lot of dating apps that make their way into the App Store and it seems like this summer is going to be very hot. Dating someone is not an easy task because most of the relationships end up after the first line of conversation. Sometimes the ideas of the two souls don't match if they're opposite to each other. So it's better to date a guy or a girl if there is a common bond of interest between you two. Nowadays, you can talk to the person virtually on the dating app and interact with each other. Following the same concept, a new app has been launched and it's our duty to check it out for the sake of you.
It's known as Armenian Passion which is a dating site with virtual 3D city, video, live chat and more. It's the leading Armenian dating and chat website that allows members to contact each other through live chat, instant messaging, video chat, and meet other members in the virtual reality, 3D World.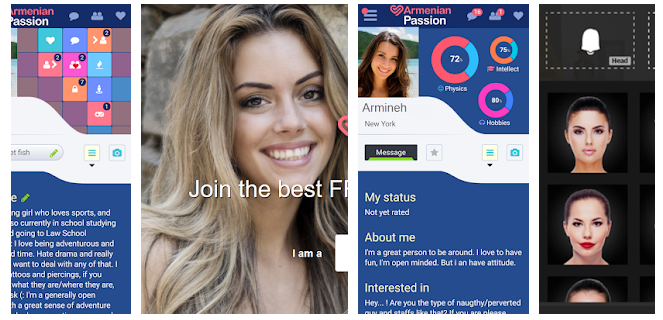 Armenian Passion is specially designed for the Armenian singles to connect with each other for friendship, love and marriage. There are a lot of advanced features of the app which makes it unique from other dating apps. For example:
You can create your profile on the app.
Search thousands of member's profiles.
Get messages from other Armenian Singles.
Add members to your favorite.
You can experience the live club and lounge interaction in the 3D rooms.
Select a location, invite your friends and chat with them in any part of the world using the street chat.
You can see who likes you and block users as well.
You can do audio as well as video chat.
If you like someone you can try matchmaking.
Like most other dating apps, the app is also free to install but has additional paid features to access. The app has been developed by Worlds Passion and has plenty of features if you seriously want to date someone or find your true love. There are thousands of Armenian men and women find love, friendship and happiness at this app from Los Angeles to Armenia. The members of the app come from all over the world, the USA, Europe, Canada, Australia, Armenia, and many more countries.
If someone is really interested in finding a mate, then it's an affordable app which is free to download and requires only a small amount to get extra features. It's a great app and easy to use. What else you want in the palms of your hand and the comfort of your home! I think it's pretty much for you! So get registered yourself and find your soulmate today!
Pros: user friendly interface; easy to find friends and dates; easy to use; offers live chat, instant messaging; video chat; meet members in virtual reality; 3D world; free.
Cons: not found.
Worth Having App – Download the App