The Tallileo app is adept with many features that get the job done. No more overlapping signs and Tallileo is your one and only true friend for a delightful financial journey.
Generate all of your finances together under one roof. Expenses, accounts, credit card bills, budgets, categorization, loans, investments, insurance, bill payments, mutual funds, bucket list items, occasions, friends, subscriptions, and purchases are all expenses.
Tallileo Has a Lot of Features
monitor your finances
automatically track all of your expenses
Real-time tracking of all your investments
keep track of all your credit card purchases
Keep track of all of your accounts in one place. It covers everything from cryptocurrency to banks to wallets.
In event mode, track expenses for a specific event.
Save
Save for the future in various accounts such as emergency and retirement.
Use a bucket list to save for your dream purchases.
Increase the value of your savings and bucket list items by investing in funds.
Share
Split costs with friends and family
whole dashboard to see who owes whom and how much
see the updated data in your finance dashboard
Pay off debts with friends with a single click of the UPI button
If enabled, automatic debit of debt, which instantly settles payments
Invite friends to events to take primarily sharing to a whole new level.
Invest
Maintain your investment portfolio directly within Tallileo.
Use your existing brokers to invest in stocks, mutual funds, and other schemes.
Use Tallileo to manage your family portfolio.
Monitor stock prices in real-time.
Budget
a completely new budgeting model developed for Tallileo's users
Use our advanced budgeting model to stay on top of your finances.
Keep track of your monthly expenses and relevant income to stay on track with your budget.
Insights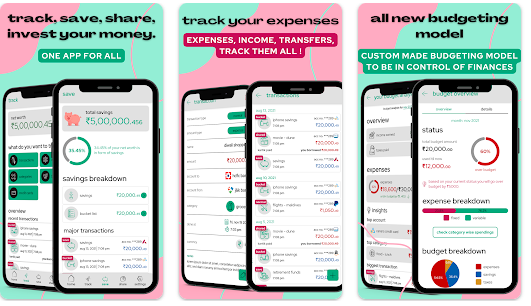 look at your data categorization
financial dashboards to assist you in better understanding your financial data
suggested actionable insights based on your financial data
eye-catching charts and reports that present your finances in an easy-to-understand format
Payments
payment of bills
Bill-tracking that is automated
The reminder of bill/subscription payments
Pay your credit card bills and receive a reward
Additional Features
Your information is synced in real-time, and it moves with you.
advanced settings to tailor your app to your specific requirements
built-in calculator to help you quickly calculate essential numbers on the go
Import information from other sources such as bank statements, YNAB, Splitwise, etc.
Save your data in PDF and Excel formats.
A home screen widget on the phone for quick access to Tallileo.
Final Words
There will be no more shifting through multiple apps. Get your finances under one roof, from insurance to loans, expenses to savings, and credit cards to cryptocurrency.